By Rose Astley, as published in Gympie Times, 27 May 2021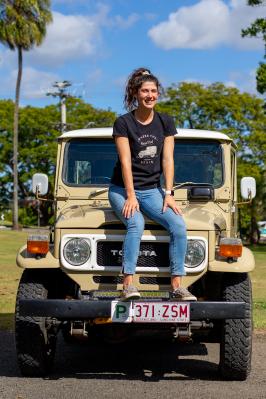 The threat of drought is something that haunts most, if not all Australian farmers and when Mother Nature holds out on them, they rely heavily on help from others.
One local Gympie woman has acknowledged the mental, physical and financial burden that drought takes on our farmers and has decided to do her part to help make a difference in their lives.
Mia Ketterer will be taking part in A Long Drive for Drought this August, a journey which will involve thousands of kilometres in her family's 40 series Landcruiser.
"It was astonishing to hear how much of Queensland is in drought, and how so many are affected by something that is totally out of their control," Ms Ketterer said.
"Tash, founder of Drought Angels, explained that they provide personalised support to our Aussie farmers and give them hope.
"I thought to myself I have to get involved with this, not only was it a great excuse to take my car on a road trip but I would also be supporting farmers and bringing awareness to this ongoing issue."
Ms Ketterer said she originally saw the initiative on an episode of Creek to Coast and thought it was a great idea.
"It wasn't until I started working in the agricultural industry in December, that I realised some of the hardships farmers face mentally, physically and financially.
"It made me think back to that episode and I started looking more into the organisation, what they do and their motivations for it."
Long Drive for Drought, directed by Brent Reeman, is partnered with Drought Angels and is designed to raise awareness for drought affected communities, while connecting niche LandCruiser communities together to raise money for local charities.
Starting in late August, Ms Ketterer, her father and 30 other participants will stop at 18 towns including Tambo, Theodore, Springsure and Jericho on their 3000 plus kilometre journey.
"An icon of the bush" Ms Ketterer and her father will travel in their 1980s 40 series.
"We bought it 4 years ago and fully restored it," Ms Ketterer said.
"Hitting the road again in 2020 and now my daily driver.
"I love everything about these cars and thought it would be an awesome restoration project with dad and grandpa. It allows me to do the things I love, like going to the beach or into the bush."
Ms Ketterer said they are excited to hit the road to mingle with like-minded people while learning more about our drought affected country.
"We are both pretty keen. I think it'll be an awesome way to get amongst different communities and meet new people (who love cruisers too).
"As well as a bit of an eye opener, seeing how the drought has affected some of these communities.
Ms Ketterer has set up a fundraiser on her Facebook page, though donations can also be made through the Long Drive for Drought website, all funds are donated to Drought Angels.